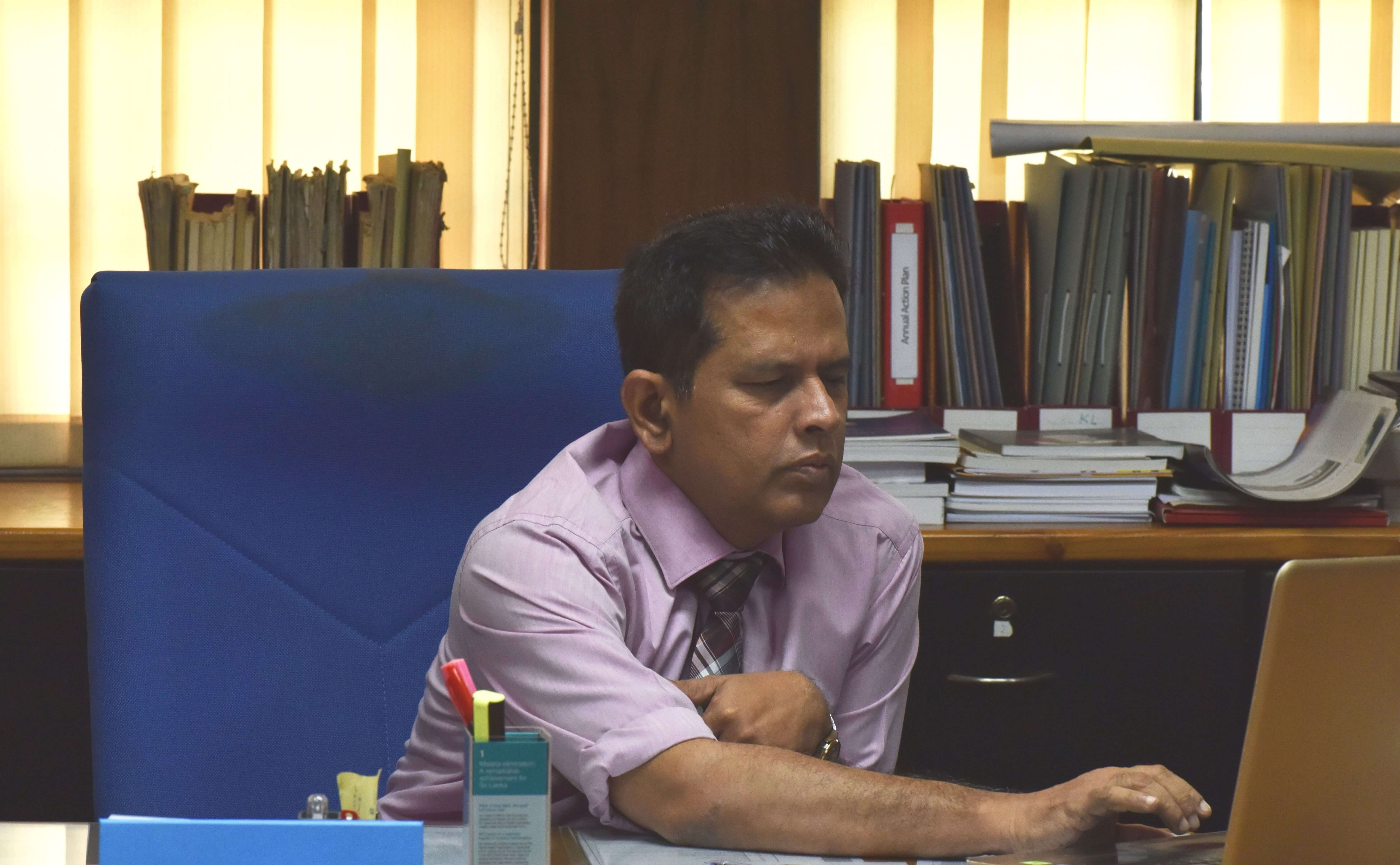 ---
Dr. Prasad Ranaweera
MBBS(colombo), MSc, (Community Medicine)
MSc (GIS & RS),MD (Community Medicine)
Consultant Community Physician
Acting Director of Anti Malaria Campaign | Sri Lanka.
| | |
| --- | --- |
| Office | | +94 (112)36 9817 |
| Mobile | | +94 (71) 800 5135 |
| e-mail | |
---
---
The Anti Malaria Campaign of the Ministry of Health, Nutrition and Indigenous Medicine, Sri Lanka is proud to present you the new official website.
The website is responsible for gaining the attention of global health communities of various degrees and obtain support for the mission of prevention of resurgence of malaria and to ensure malaria free Sri Lanka. Anti-Malaria Campaign (AMC) is having public health service network through regional malaria offices and linkages with curative health sector for the treatment services.
It the year 2016, that Sri Lanka obtained WHO certification as a malaria-free country on 5th September. It is a remarkable public health achievement in the history of Sri Lanka. At this juncture, continuing the vigilant case surveillance for imported cases and vigilant vector surveillance become the two major strategies of the campaign. Rapid Response Team is responsible to take immediate investigations when a suspected malaria case is reported. Routine entomological and parasitological surveys are done by the parasitological and entomological teams. It is mandatory notification all the suspected malaria cases to The Anti Malaria Campaign. AMC confirms the diagnosis by malaria laboratory investigations (microscopy/Rapid Diagnostic Test/PCR). Medicines for treatment of malaria are provided by the AMC. Each confirmed case of malaria is reviewed by an independent expert case review committee of the Technical Support Group with regard to case management and classification.
Vigilance the key to prevention of malaria. At Current circumstances, the general public and stakeholders of varying degrees have become a crucial component in the prevention of re-introduction of malaria in Sri Lanka as the risk communication approach plays a central role in the overall response to the health crisis and prospective disease outbreaks. information is the currency. Access to health information is fundamental to better health for patients & the community. The numerous advantages of the Internet, such as easy accessibility and mutual communication, made it a new and free source of disseminating health information, moving toward an information revolution. As a result, medical information that was previously hard to access is now broadly available to many people. So, this online information can bring a positive transformation in the health services provider and consumer relationship.
People are increasingly turning to their smartphones and other electronic devices for their everyday needs – including their health. This means medical websites need to be modern, effective and functionally friendly. Web sites are becoming more of an asset to businesses than ever before, and healthcare is no exception. Increasing access to quality online information is a shared priority among national and international policymakers. The choice of how to shape and convey the information and the channel used to communicate it has a decisive effect on the government's success or failure to deal with prospective malaria crisis and outbreak. The World Health Organization has called for greater transparency, privacy and security, codes of conduct, and individual choice and control of health-related websites.
The official web portal of Anti Malaria Campaign enables all the possibilities of connecting various global health communities integrated with the general public which would lead to a common shared goal of keeping Sri Lanka malaria free and share our expertise knowledge & experiences in the global movement of beating malaria. This website will be a medium of connectivity to the external world of public health and serve public health officials as a source of credible information to which they can direct the public and from which they can receive feedback. The adjustment of the official site to the world of new media, both on the conceptual and the aesthetic level, can reframe it as a dynamic, credible and attractive source for different audiences which ultimately leads for data/information-driven healthcare provision would be one of our main priorities.
Finally, I take this opportunity to extend congratulations towards my team of developers, authors & contributors for making the Official Website of Anti Malaria Campaign of Sri Lanka a success.
---